Opportunities at Dynamic Engineering:



Dynamic Engineering is a solid 26+ year old company primed for significant growth. We are financially strong, with a solid customer base. We are known for quality products and excellent customer service. We work with fortune 500 companies and small ones too. Dynamic Engineering designs utilize cutting edge technology. Dynamic Engineering customers use our hardware for a wide range of applications including: simulation, mission critical interfaces, command and control, communications, and avionics.

Dynamic Engineering features a relaxed work environment, and excellent team spirit. We offer competitive pay and benefits and a great location in Santa Cruz County. Our facility in Harvey West Park has state of the art manufacturing capabilities. Dynamic Engineering is primed for growth, and able to offer competitive salaries, individual growth, and benefits.


Send your resume to paul@dyneng.com or via fax 831-457-4793
Manufacturing Technician - Maintenance & Support
Position open
Dynamic Engineering´s manufacturing department has an opening for an individual who has maintenance and operation experience to maintain our SMT (Surface Mount Technology) production equipment. This person will work with and support our assemblers to address machine errors as well as determine the cause and fix problems as they arise. This person will be familiar with mechanical drawings, wiring diagrams and have a basic understanding of electronics. Preventative maintenance on all equipment is an integral part of our maintenance process.

Along with equipment maintenance, manufacturing support activities will include receiving, kitting and inventory control. The ideal candidate can easily distinguish between and monitor components with very small differences in part number or description. Precise and consistent output under limited supervision is essential.

Additionally, candidates that are familiar or have experience with visual inspection to IPC standards (IPC-A-610, J-STD-001) and are willing to use a microscope or magnifier lamp to inspect electronic assemblies is a definite bonus.


Responsibilities:

Responsible for minimizing production down-time by following a preventative maintenance program to keep SMT (Surface Mount Technology) production equipment running, and in good operating condition.
Repair production equipment consisting of tear down, replacement of faulty part(s), and re-assembly of equipment to efficient operating condition according to manufacturer´s specifications.
Maintain detailed maintenance and calibration logs of all repairs completed, parts replaced and preventative maintenance performed.
Assemble kits for production builds.
Inventory control including monitoring finished goods, parts in kits, parts in stock, receiving new parts and maintaining stock room organization.
Visual inspection of finished goods to IPC class 2/3 standards.
Maintain a clean and safe work environment.
Must be organized and dependable.
Ability to lift up to 50 lbs.
Potential Responsibilities:

Program SMT (Surface Mount Technology) machine lines consisting of paste printer, pick and place machine and oven.
Develop equipment utilization processes that will enhance quality and productivity improvements.
Provide input on equipment/machine capability through the investigation of reliability/serviceability histories and/or limitations of OEM designs.
BOM data entry and verification.
Stock room reorganization and supervision.
Required Skills:

Equipment repair experience (i.e., electrical mechanical, hydraulics, etc.).
Must possess strong electrical, pneumatic, hydraulic, and mechanical skills. Must understand theories of operation, troubleshooting repair procedures, and preventative maintenance practices.
Attention to detail is a must
Proficient in Excel and Word
Desired Skills:

Knowledge of Panasonic MSF pick and place, Speedline Accuflex paste printer
nventory control experience
IPC standards experience (IPC-A-610, J-STD-001)
ESD electronics handling experience
Basic understanding of electronic circuits
Electronic component identification


Sr. Embedded Engineer - Position Filled. Please send in your resume´s for future requirements
We are growing and continue to need top quality people.
The right individual is a leader who wants to design, learn, set direction, and play on a winning team. This individual will be upbeat and good with customers. There are a lot of opportunities to make a difference with Dynamic Engineering. Most designs involve FPGA's. Under the "Musts" section are the HW focused skills including FPGA design using VHDL, schematic level design for Digital and Analog circuits, understanding of high speed design and layout. Your design work will need to be tested, typically using C/C++ and a driver for the HW. The software skillset is listed as a "Desire" as we do have other software capable designers in place and can potentially take a team approach to the test software etc. However a candidate with strong SW and HW skills is preferred. Verilog is sometimes needed to interface with certain IP etc..

Musts

VHDL
FPGA design [we mainly work with Xilinx, and do some Altera and Lattice]
Schematic design
Layout supervision

Desires

Verilog
C/C++
Driver Design with Windows®, Linux, VxWorks, etc.
Sr. level design experience pertinent to real time systems.

We work with many formats including PCI/PCIe, IndustryPack, PMC/XMC, cPCI, PC/104p etc. , VME/VPX and custom ... experience with more than one format is a plus. Can you take on a challenging design and "own" it?
Our projects range from custom VHDL/Driver modifications reusing exiting HW to full custom designs. As you can see from our website we have quite a range of design work to do. In addition there are a number of "not for resale" designs that we have done, including fully integrated controllers for mechanical systems with pulsed lasers and other challenging and fun designs.
Competitive salary and benefits package. Submit your resume to keith@dyneng.com


Send your resume to paul@dyneng.com or via fax 831-457-4793 Manufacturing Assistant/Tester Position Filled
Do you have experience testing and troubleshooting high density boards? Pay close attention to detail? Send in your resume today. The right individual wants to work with our team building and testing embedded hardware from the simple adapter to complex custom designs. Initial responsibilities include; board testing, preparing products for shipping and electronics handling. Candidates need to be familiar with a PC and be able to read and write in English. Must be experienced with multimeter and oscilloscope, reading schematics, using automated assembly machinery and ability to use computers to test and debug hardware. Experience working with SMT components and using a microscope to isolate board issues is preferred. With room to grow the right candidate could move toward additional responsibilities including, monitoring progress and helping improve our manufacturing processes etc.
Very close attention to detail

Use of test equipment (Oscilloscope and multimeter)

Schematic reading

Board and component level test

Hardware debugging to component level

Electronics Handling

Computer Ability
Competitive salary and benefits package.

Send your resume to paul@dyneng.com or via fax 831-457-4793


SMT Solderer Position Position Filled
Must have experience soldering SMT fine pitch components to certification level, using various soldering tools and microscope. Candidates must be familiar with all SMT and through hole soldering techniques and tools and be able to read and write in English.

Very close attention to detail

Electronics handling

Computer ability

SMT and through hole Soldering Techniques and tools

Competitive salary and benefits package

Send your resume to paul@dyneng.com or via fax 831-457-4793


Software Engineer- Accepting Resumes
Please send in your resume for our future consideration. We are growing and will need more top quality people soon.
Terrific opportunity for a dynamic, talented professional individual ready to move ahead in a great career receiving top compensation with a rewarding work environment.
We are currently looking for a Software Engineer familiar with Windows and Linux to support our product development and driver needs. VxWorks experience is an added plus!
Dynamic Engineering is primed for growth, and able to offer salaries, growth, and benefits of Silicon Valley high tech companies, while also offering the conveniences and comforts of a smaller company.
Among our benefits we include: Health insurance * Holiday pay * PPTO

If you are the right individual, a leader that wants to design, learn, set direction, and play on a winning team, email your resume and a brief paragraph stating why you are the "right individual" to keith@dyneng.com

Dynamic Engineering will provide you the opportunity to contribute based on your experience, while also learning and mastering new areas within:
FPGA design [Xilinx, Altera]
VHDL
Schematic design
Layout supervision
Other OS drivers and languages.
Senior level design experience pertinent to real time systems.


PCB Layout Designer-Position Filled, Accepting Resumes for future growth

PAD's Power PCB 9.0 Layout designer. Terrific opportunity for a dynamic, talented professional individual ready to move ahead in a great career receiving top compensation with a rewarding work environment. We are currently looking for a PCB Layout Designer. Familiarity with PAD's PCB 9.0 is preferred. Must be knowledgeable with high speed design rules and BGA layout and routing. Dynamic Engineering is primed for growth, and able to offer salaries, growth, and benefits of Silicon Valley high tech companies, while also offering the conveniences and comforts of a smaller company.
Send your resume with salary requests to keith@dyneng.com or via fax 831-457-4793


Administrative Assistant - Position Filled
Full Time for Electrical Engineering and manufacturing company. Join our team supporting multiple departments including; Accounting, Sales, Marketing, Web Development, and Shipping. Candidate will greet customers, answer phones, assist with sales, and provide administrative support to the corporate office. This is a great opportunity for diversity in assignments.
Send your resume to keith@dyneng.com or via fax 831-457-4793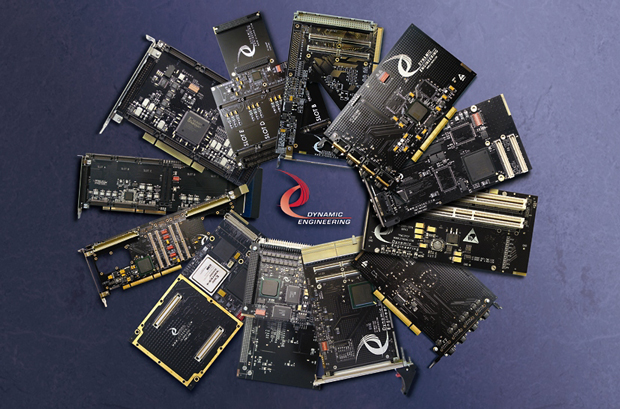 Custom, IP, PMC, XMC, PCI, PCIe, VME, VPX, PCI-104, PCIe/104 Hardware, Software designed to your requirements








Home | News | Search the Dynamic Engineering Site

[an error occurred while processing this directive]